Deutz-Fahr with BISO header on Agritechnica fair
Agritechnica 2017 - BISO VX CropRanger Trendline Light
Autor:
BISO
veröffentlicht:
21.4.2020
This year, as usual, thanks to the cooperation between BISO and the agricultural machinery manufacturer Deutz-Fahr, the BISO CropRanger Trendline Light header in the Deutz-Fahr design appeared at a nice exhibition at the Agritechnica trade fair in Hanover in 2017.
We firmly believe that the combination of the DF combine and the BISO header has attracted many customers and we will meet it more and more often in the field.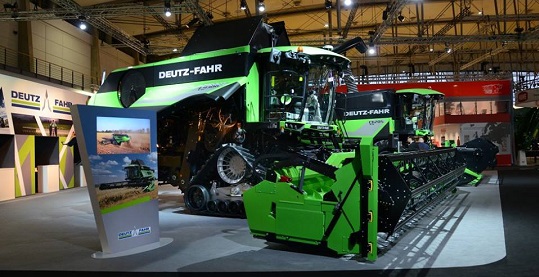 Other interesting articles: 
 

Agritechnica 2019: BISO 3D VarioFlex•AIR•i

The worldwide exhibition Agritechnica 2019 is over and we, as BISO, can say that it was very successful! We also received a significant silver medal award for our new innovative product BISO VARIOFLEX 3D AIR i

 

 

BISO 3D – HYBRID FRAME

The key issue for a long lifetime of the header is a strong frame and a good trolley for header transport. The high quality header will not be recognized after one year in service, but after 10.000ha harvested...

 

BISO 3D VARIOFLEX•AIR•i

An efficient and relaxed harvest begins with the premium header. Premiums will include models that can harvest not only cereals, rape or soybeans, but also...