BISO VX CROP RANGER 850 WITH NEW HOLLAND CX8.80
A new header for a new harvest season in the Czech Republic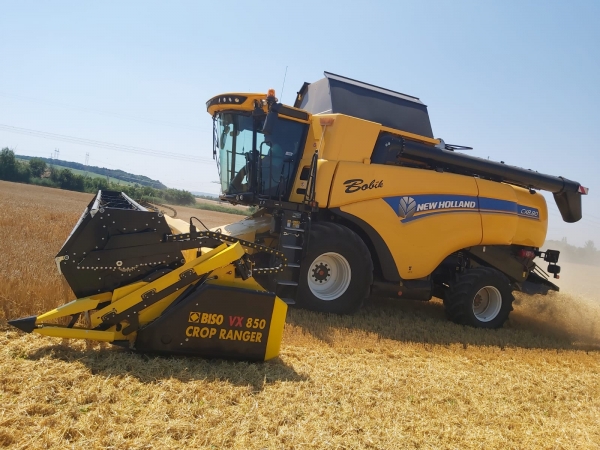 Autor:
BISO
veröffentlicht:
19.8.2021
Our customer started the new harvest season with the new BISO CropRanger VX850 TLL header and we are glad to be here and see the first steps in the field.
ISO CropRanger VX850 TLL is in pair with New Holland CX8.80 combine.
The VX850TLL in full specification with angl adjustment and hydraulic side knives. Working with 8.5m header is a very good choice for the New Holland CX8.80SL. The customer is from areas with stones and that was the reason why he ordered the "SCHUMACHER KIT" and the auger from steel (not stainless).
The BISO ProfiTrailer is like a standard feature on our market for such a header category.
We made some nice pictures during the work, in the field, so let´s have a look...
Other interesting articles: 
 




BISO 3D – IN THE FIELD 2020 (PART 3) - LENTIL
Let's look at the lentil harvest. In the pictures, you can see that the lentil stand can be a very interesting challenge. The value of the crop is really high and the harvest quality is in the first place

 




BISO 3D – IN THE FIELD 2020 (PART 1)
We have been testing the 3D VARIOFLEX AIR i on our combines since 2017, but this year we hang the unit from the serial production in 2020 up on our CR9090 SmartTrax. The model 3D VARIOFLEX 1070 AIR i in...

 
 
PERFECT IN DETAILS (PART 1)
We say that combines are statistically "in action" 22 days per year (during cereals harvest).  On some big farms, it can be only about 10-12 days only in their own territory. Days full of stress and pressure...