BISO CROPRANGER VX750 TRENDLINELIGHT WITH SAMPO COMIA C22
A new CropRanger VX750 TrendLineLight paired with SAMPO COMIA C22 IN THE FIELD IN HUNGARY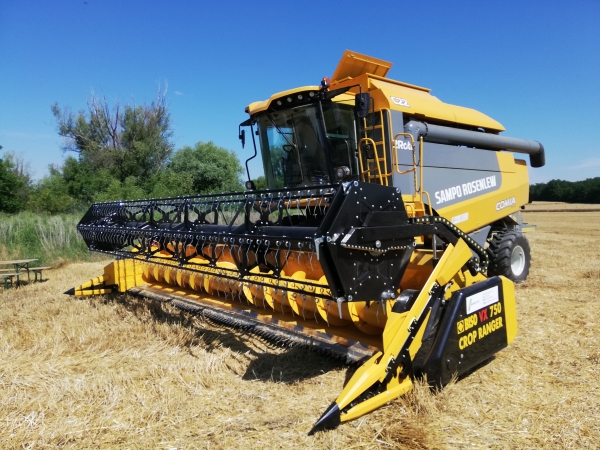 Autor:
BISO
veröffentlicht:
19.8.2021
Thanks to our dealer Készenlét Zrt., these days you can see a new header CropRanger VX750 TrendLineLight with Sampo C22 working together in pair in Hungarian fields.
Typical of our headers are integrated foldable side knives right & left with the possibility to use them together with crop dividers.
The header hydraulic angle adjustment promises an optimal cut, close to the ground, even with bigger cutting widths.
Are you interest? You can see nice photos in the gallery.
Other interesting articles: 
 




BISO 3D – IN THE FIELD 2020 (PART 3) - LENTIL
Let's look at the lentil harvest. In the pictures, you can see that the lentil stand can be a very interesting challenge. The value of the crop is really high and the harvest quality is in the first place

 




BISO 3D – IN THE FIELD 2020 (PART 1)
We have been testing the 3D VARIOFLEX AIR i on our combines since 2017, but this year we hang the unit from the serial production in 2020 up on our CR9090 SmartTrax. The model 3D VARIOFLEX 1070 AIR i in...

 
 
PERFECT IN DETAILS (PART 1)
We say that combines are statistically "in action" 22 days per year (during cereals harvest).  On some big farms, it can be only about 10-12 days only in their own territory. Days full of stress and pressure...