BISO VX Crop Ranger Trendline Light 750 is for AGCO, the header is on the BISO Profi 2-axle trailer. This header is located in Eggerding. From specifications we choose:
-        Hydraulic header angle adjustment 
-        integrated water tank 
-        central lubrication for chains                                      
-        splash guard   
       

Expected from the factory, ready in two weeks: BISO 3D VARIOFLEX•AIR•i 920 for CNH is a premium header for all crops.

From specifications we choose:
-        Hydraulic header angle adjustment                                          
-        Splash guard                                                                                         
-        integrated foldable side knives right & left                          
-        automatic hose reel 11m for air pressure

 

 
        

Expected from the factory, ready in two weeks: BISO VX Crop Ranger Trendline Light 750 for SAMPO the header is on the BISO Profi 2-axle header trailer.

From specifications we choose:

-        integrated foldable side knives right & left 
-        wide-angle cardan shaft
-        crop lifters
-        reel tine angle adjustment

 

 
Please, do not hesitate and ask for an individual offer. We are looking forward to hearing from you.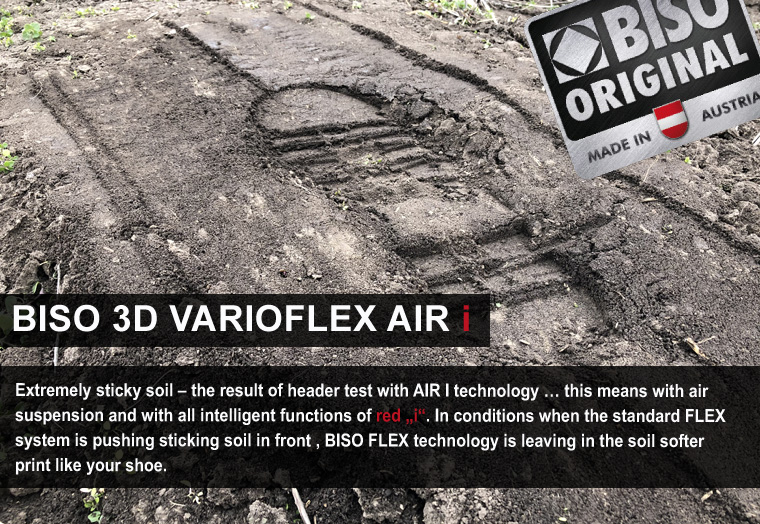 Other interesting articles: 
 

FIRST IMPRESSIONS OF THE BISO VX CROPRANGER VX850 TLL IN COMBINATION WITH THE NEW HOLLAND CX 8.80 COMBINE HARVESTER

Now, all our combine harvesters are parked under the roof. And why not remember the sunny days of last summer, when we worked hard? What were our first impressions...

 

BISO CROPRANGER VX TRENDLINELIGHT (PART 1) THE PULLING HORSE OF BISO COMPANY

Its full name is BISO CropRanger VX TrendLineLight (TLL). The production has started in 2011 but don't confuse it with CropRanger VX HighLine which was produced from 2001. CropRanger VX TLL is the latest ...



 

BISO PROFISTEER TRAILER
It is a very pleasant feature for the 9m header, it is good to have it on the 10.7m one, and for the 12.3m one it is a "MUST HAVE".  We are speaking about the rear axle steering on the header trailer. Let's look at the...