BISO 3D – MEDAL FOR 3D VARIOFLEX•AIR•i
AGRITECHNICA 2019 – award for premium header in new 3D class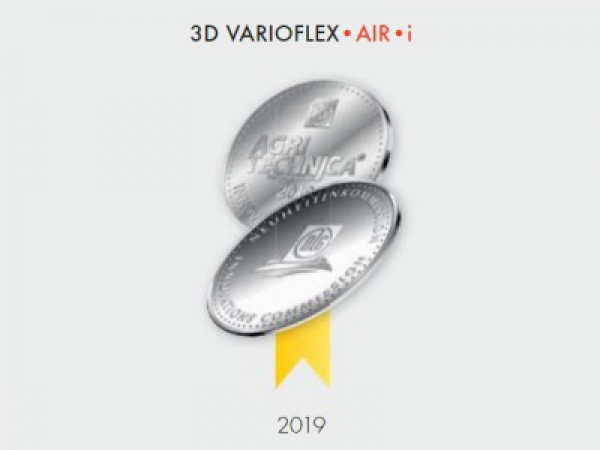 author:
BISO
published:
21.4.2020
The German national agricultural company DLG awarded us a silver medal for the BISO 3D VARIOFLEX AIR i header on the occasion of the upcoming AGRITECHNICA HANNOVER 2019 exhibition.

The commission of experts from DLG provided the following justification:
3D Varioflex
The ever-expanding replacement of crops with a greater proportion of legumes requires a flexible header for harvesting crops that are located very close to the ground with the aim of minimizing harvest losses. However, this new system is suitable for both – cereals and rape, as it is based on the header with a continuing auger, including the possibility of variable changes in the depth of the cutting table.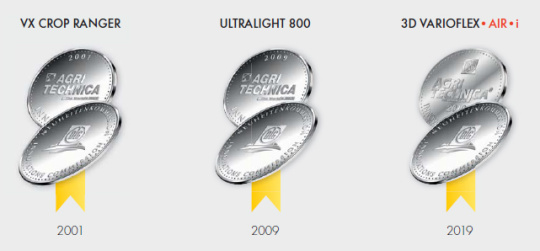 BISO has already won several medals for its products. In 2001 it was for the BISO CropRanger VX harvesting header, in 2009 for the BISO Ultralight 800 harvesting header and in 2019 for the BISO VARIOFLEX AIR i.

In the 3D VarioFlex mowing system, BISO combines the advantages of a flexible cutting bar and a variable cutting table with the possibility of depth adjustment for the first time. The header is height-adjustable by a total of 25 cm and the contact force at the point of contact of the header with the ground is sensed by force sensors integrated into the parallelogram of the header suspension. The contact pressure on the ground can be set in the range of 0 to 50 kg, which, in conjunction with the rear suspension, achieves an active copying of the knives to the ground profile. The vertical movement of the cutting floor is made possible thanks to the flexible section of the cover plates.
BISO offers farmers a header with an intake auger and an active cutting knife height adjustment for the first time in history. It can be used replacing a conventional cutting header with a variable cutting floor adjustment and a flexible cutting header reducing costs at the same time.
In conclusion, the commission could only note that there is no bigger award in our industry, perhaps only a gold medal. BISO has already been successful several times in the past. With the BISO CropRanger VX and the BISO UltraLight 800 harvesting headers.
This year, all manufacturers of agricultural machinery were awarded 39 medals for technological innovation, of which only 1 was gold.
More below, all medals awarded by DLG

version DE: 
https://www.agritechnica.com/de/innovation-award-agritechnica/gold-und-silber-2019
version ENG: 
https://www.agritechnica.com/en/innovation-award-agritechnica/gold-and-silver-2019